Zero-cost interpreter training
Use interpreterQ Media Player for free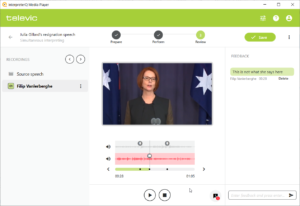 Dear,
In these strange times dominated by the Corona-virus, Televic Education also takes its social responsibility and wants to empower you to deliver interpreter training from the safety of your own home.
Therefore, you can use the brand-new interpreterQ Media Player for free with all your students until the end of June.
With interpreterQ Media Player,
teachers can prepare simultaneous and consecutive interpreting exercises for students
students can record multiple versions of their interpretation, and select the version they want to submit for review, and
teachers can evaluate all recordings and provide feedback within the recording.
Further, interpreterQ Media can be used stand-alone by students for self-practice and peer review.
Please feel free to share this offer with anyone we may not have reached. If we can support you in any other way, please let us know at support@televic-education.com.
Kind regards,
Dicken Minta, Dirk Verbeke and the entire Televic Education team
Copyright © Televic Education 2020, all rights reserved.